How to upgrade to SMCROWN VIP?
There are multiple ways to become a SMCROWN VIP member :-

By depositing the required amount within stated timeframe.
By special invite.
Contact our Livechat to apply upgrade.

For your safety and security reasons, you are required to provide necessary details as stated in the SMCROWN VIP upgrading policy. It will take up to 2 business working days for our team to review and verify the information provided. We will then update your latest status and information in our system, and after that, your journey as a VIP member will begin!
SMCROWN VIP Member exclusive rights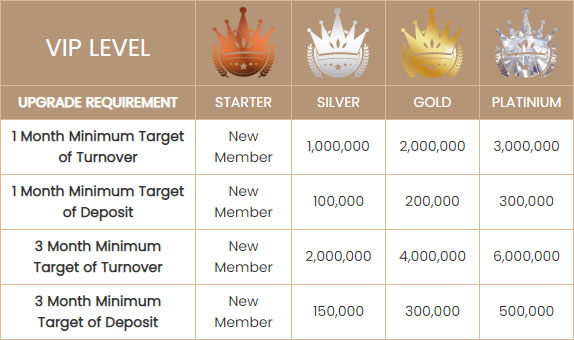 How can the deposit amount be calculated?

Deposit and turnover requirements will be based on the accumulated amount from the first day until the last day of the respective month.
Bonus and promotion will based on the member's registration currency as standard.
VIP Members Benefits and Privileges
Members are entitled to enjoy the special promotions and benefits starting from the first day after successfully upgrading to the VIP level.

Terms & Conditions
Multiple accounts are not allowed, if any collusion or multiple accounts are found,SMCROWN reserves the right to cancel or withdraw the member discount bonus.
SMCROWN reserves the right to alter, cancel, terminate or suspend the Redemption or any part thereof or any part of the applicable terms and conditions from time to time, with or without any prior notice.
Any bets places on two opposite sides or draw will not be taken into the calculation or count towards any rollover requirement.
Bonus and promotion will based on the member's registration currency as standard.
Members participate in the VIP program must accept and comply with the above rules and terms as well as all relevant rules and terms of the website implement by SMCROWN.
General SMCROWN Terms & Conditions apply.